Fermented Wild Garlic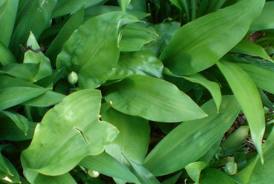 Wild garlic is abundant this time of year, and as we know we should all be eating more fermented foods to support healthy digestion. So this year, I thought I would give fermented garlic a try. I love the taste of fermented foods and I love wild garlic, so for me, it's a perfect combo.
Let the magic of fermentation begin.
You will need
Wild garlic leaves
Sea Salt
Large Jar or jars with lid
*****
Gather your wild garlic leaves – fresh, healthy plant material is a must. The amount you need will depend on the size of your jar but you will need more than you expect. I am using a large Kilner jar which took a basket full of leaves or about a carrier bag.
Wash your leaves and dry them, removing all excess moisture.
You can leave your leaves whole or chop then up.
Pop your leaves in a large bowl  and sprinkling with salt, this is best done a little at a time…. leaves, salt, leaves, salt… I used about 1 1/2 teaspoons of salt for my basket of leaves.
Now let your leaves and salt sit for about 30-60 mins – until you see that the salt is drawing the juices from the leaves
It's now time to get your hands in, give the leaves a good massage until they start to become wet, darker and loose their shape a little.
Put a plate (with a heavy item/tin on) on top of your leaves, weighing them down for another 30-60 mins.
Now pack your leaves into your jar, using a wooden spoon or the end of a rolling pin, pack them in tightly, removing all air pockets. Once you have filled your jar 3/4 of the way you will notice you have lots more liquid, this liquid needs to cover your wild garlic when pressed down. I had lots of liquid, but, if you don't top up with bottled mineral water – NOT tap water.
This where you get to be inventive. You need to keep the leaves weighed down, keeping them beneath the liquid, some say to fill a bag with water and place in the jar, some a jam jar or yoghurt pot filled with water. Your plant material MUST be submerged in the liquid for fermentation to take place.
Time now for you to leave your jar in an ambient temperature to ferment for a week or so.
If white froth or bubbles form, don't panick, apparently this is quite normal and all part of the fermentation process. You can always scrape it off. To test your fermented wild garlic use the taste test – it will be slightly fizzy and the garlic will taste softer. When you feel happy with the flavour you can remove the weight, pop a lid on and store in the fridge.
Save
Save