Nettle Soup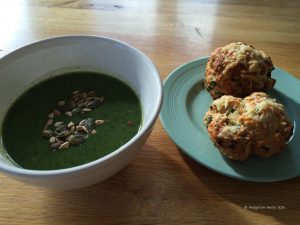 Nettle soup is not only delicious but it's super good for you.
It can be made within 10 mins of harvesting the nettle tops. It doesn't get fresher than that.
What you will need
1 x chopped onion
1 x clove of garlic or some fresh wild garlic leaves (optional)
Nettle tops (top 4 leaves) – a colander full
1 x medium potato – chopped up

Stock or just water
*****
I literally pop everything in a pan, cover with water or stock and gently simmer until everything is  cooked.
I then blitz with a hand blender and season to taste. I like to add a little grated nutmeg.
Top with toasted seeds or a little goats cheese.
Note: if you don't want to use potatoes, rice cakes can be used to thicken the soup or omit altogether.
Save
Save