at Witchampton Village Hall, Nr Wimborne, Dorset.

Summer not only gifts us with longer sunnier days but our hedgerows, fields, gardens and green spaces offer up an abundance of wild medicinal flora.
On this one day workshop, we will be gathering and learning about the herbs of summer,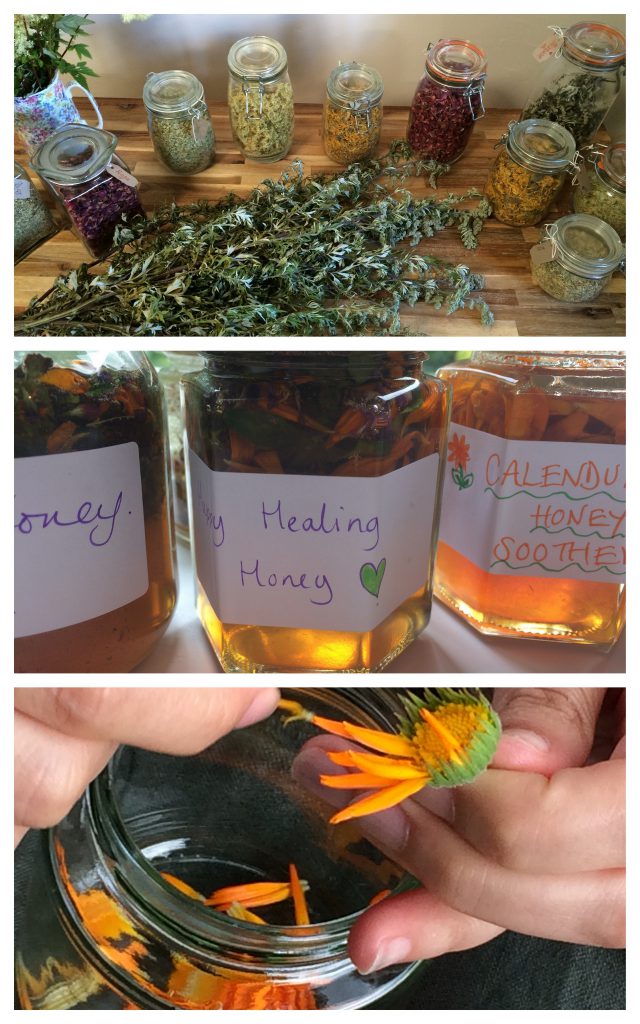 understanding more about their medicinal uses and how we can use them daily for our health and wellbeing
We will make herb infused honey, aromatic sprays and look at the best way to dry the herbs we gather to make herbal teas, enabling you to fill your teapots throughout the months ahead: you will no longer need to be spending your hard earned pennies on shop bought herbal teas, when you can spend a few minutes filling your teapot with beautiful, free, herbal bounty from the wild places.
Cost – £65.00 per person.
Refreshments and handouts will be provided. Due to COVID-19 restrictions, there will be a limited number of places on this workshop, so booking early is advisable.
Please see below for details on how we will be keeping COVID-19 safe
If you would like to book a place or require further information please use the button below or drop me an email, Dee at hedgerowdee@hotmail.com or call me on 07876711407 (happy to call you back).
Keeping COVID19 safe – 
​The group will be kept to a maximum of 5 people plus me.
*
You will be provided with a visor-style face mask for wearing during the workshop – the wearing of the visor will be required in line with government requirements/recommendations.  
*
You will be required to bring your own mug for tea and your own lunch and eating utensils. Refreshments throughout the day and afternoon cake will be provided by me. 
*
Social distancing will be followed in accordance with government requirements/recommendations. 
*