at Witchampton Village Hall, Nr Wimborne, Dorset. 10am – 4pm
Cost: £75.00 per person (see below for discount information)
This workshop will teach you how to make a variety of tried and tested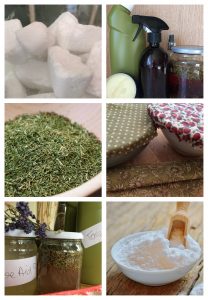 recipes to enable you to start making your own natural cleaning products from simple ingredients that can be found in your cupboards or easily and cheaply bought.
This workshop is hands-on, so you will have a whole variety of products to take home with you along with detailed handouts.
We will be making  
Infused Anti-bacterial spray –
Dishwasher tablets –
Toilet cleaner –
Kitchen surface cleaner –
Clothes washing liquid –
Wood polish – Scouring powder – Bees wax wraps        
Cost: £75.00 per person (or £140.00 if you book the March Natural Bathroom Product workshop and the Herbal Bathroom workshop together). Places are limited so it is always advisable to book early.
A light vegetarian lunch, refreshments and detailed handouts will be provided.
Please note: the majority of ingredients will be supplied on the day but in the nature of upcycling/recycling you will be required to bring along empty jars and bottles for your products and a small/medium size mixing bowl. You will receive an email upon booking detailing what you will need to bring with you.
If you would like to book a place or require further information please use the button below or drop me an email, Dee at hedgerowdee@hotmail.com or call me on 07876711407 (happy to call you back).
Keeping COVID19 safe – Workshop numbers are being limited to 8 people per workshop. We will keep COVID19 safe in accordance with all government guidelines at the time of the workshop.